When I was sixteen, I was invited to compete in a Junior Olympic girls' volleyball national qualifying meet. I had been playing USVBA volleyball all over the state during the summer before my Junior year of high school, and I had been selected to travel to Iowa to compete for a spot on the U.S. Junior Olympic team.
That was 1990. Since then, I have traveled and lived in many states across the country, and I have found no collection of women stronger in physique and more formidable than the young female athletes of the midwestern states!
They kicked my ass in the first round and I was quickly eliminated.
Nevertheless, I excelled at the sport and would still have the honor to serve as Captain of my high school volleyball team, and kick ass in my hometown. I finished my Junior year strongly, and was already being scouted for college volleyball scholarships.
Then, in early summer before my Senior year, I made a decision that would alter my course dramatically. All of the hours of practice, winning games and early accolades were tossed aside in pursuit of thinner thighs. I chose an eating disorder instead.
Over the course of two summer months, my athletic frame was reduced by 20 pounds.
At last, the extraordinarily muscular thighs that marred my body image could squeeze into a size 2. I had made it to the feminine side.
Until that summer, for as long as I could remember, I hated my legs. They weren't like the other girls'. My friends had lovely, lean ballerina legs that looked nice under skirts. Mine took interesting globular forms. Striations appeared with the slightest tension. My quads spilled over my knees. I felt the strength of my legs and knew their benefits, however I struggled with wanting to feel more feminine, and coveted a girlish frame.
Through my extreme dieting, as well as losing any hint of breasts I had, I lost my period, too. Ironically, my quest for smaller, more "womanly" thighs snuffed out the very essence of womanhood I already possessed.
I'll never know what opportunities I missed by weakening my body to the state that I did.
The strength I once had to propel me above the net and slice an unreturnable ball had significantly diminished. My game was reduced to..'meh'. While scholarships still came, they were academic, and I chose a different path altogether.
Although my eating disorder was short-lived (my basketball coach would have nothing of it and threatened to bench me – thank you Charb!), I took away many important lessons from the experience. Most important, I learned to love and embrace the body I was given.
Conscious altering of my physique is now inspired only by a passion to live life fully – to be unencumbered by illness or weakness. I feed myself well, lift weights and play hard.
I now give thanks for my muscular thighs and exploit them! They are powerful, and represent me beautifully.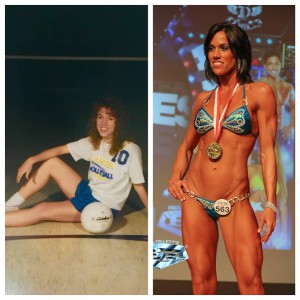 To the seventeen year-old girl obsessed with her jeans size, I forgive you for your ignorance and recklessness with this body. You didn't know then that you could have eaten six meals per day with the occasional dessert, and still be a size 2!
L Picture: Suzanne at 17, anorexic/bulemic, 115 pounds, size 2
R Picture: Suzanne at 40, fit and WINNING, 130 pounds, size 2